Post by Azaelia on May 16, 2009 4:24:44 GMT -7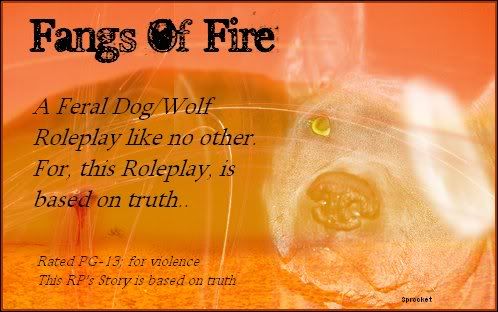 'We live in a horrible place, locked in cages that are only 3 ft. by 3 ft. Many have more then three dogs inside, and many carry disease, many had homes. Some don't belong here, I understand this. This is why I want to escape.'

'They think that Sprocket sees where to go. They think he knows. This dung heap we call home is not as easy as it seems to break out of. And the less dogs we have the better. This means I'll have to lower our number...'

'Who do I follow in these dark time? I do not want to face the Jaws of Fire...no..no, neither do my pups. What paradise is Sprocket leading us too? One away or one toward the 'Fangs Of Fire'?'
Who has said these words? Words of confession, words of hate, words of love. Who has locked these creatures away? And how can they be stopped? Who has done this madness?
Us.
Yes, all of the humans, have sent these three, and many other dogs into the Hell On Earth. Round-Up Shelters, where it is, trully, Hell On Earth. This RP is like non other, for it is based on truth. Yes, truth. The short-story before the plot, which is on the forum, tells the story of Sprocket, Fungi, and Freckles. Only three of many dogs who live daily in this hell, and how they escaped.
The bad news is, even outside, Hell is with them. None of the dogs that have escaped are sane, none remember what it felt like to be hugged, and loved by a human being. None know how to swim, how to live, in this dangerous world, set in a fictional place in Mexico.
Is there hope for them? Or will the native flora and fona, known as the Normals and the Normal Escapees do away with the Escapees? Only time will tell, if there is yet hope.
Come, and join the nice community that flows along with this RP. The role-play is rated PG-13, and no one younger then this may join. We welcome those who can post at least 200 words a post, and known the English language well.
Come, Enter
The Fangs Of Fire